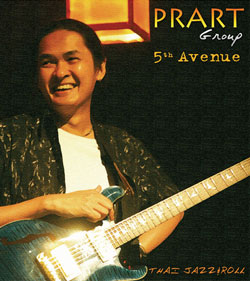 Prart Group "5th Avenue" Band
Prart Aroonrangsi
Electric Guitar, Acoustic Guitar, Guitar Synth.
Peter Erskine
Drums on Peter 5/4
Kob Somporn Jitprasopnet
Electric Bass, Acoustic Bass, Fretless Bass
Ood Yannawa
Acoustic Drums
Nung Chakawan Saotongyuttitum
All Eletric Piano, Synthesizer
Sunny Rattana Wongsunsern
Electric Piano on Jazz & Roll V.I
Peaw Shotirot Viboonlap
Voice on Old Fashion Love Song
All Songs Written and Produced by : Prart
Prart Group - 5th Avenue [Jazz 'N' Roll]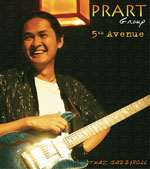 Wherever one's taste falls in the many streams of jazz, one should always acknowledge players who, while not having that mainstream edge, have that "it," an ability to communicate in the jazz mainstream. Prart Aroonrungsi is one of those players.
Prart is smooth as silk and really knows how to tell a story, to talk with his guitar. His warm, velvety tone combines with a phrasing and delivery that invite you to sit down and stay a while, relax, kick off your shoes, and just forget your troubles.
There are ten originals and some of which are surprising. There is nothing not to like in the Prart originals. He does a bebop jazz n' roll on Peter 5/4 which sounds as though it is a lost Kenny Burrell track from the Midnight Blue period, making it sound almost too easy, and the only vocal track Old Fashioned Love Song takes its time to spin out.
Drummer Ood Yannawa knows how to swing behind, ahead or on the beat in the most natural way, with grace, with bassist Kob Somporn not far behind. Pianist Nung Chakawan uses his chord choices and placement to provide a very natural framework for Prart, who can almost take his presence for granted.
This album has those compelling moments when the instrumentalists are so eloquent with sound that you'd swear you're hearing the words, a special and rare kind of alchemy.
---
ข่าวล่าสุดของ Prart Group
Metalheaven Livejournal
The Nation : Life
Music Mahidol
Kom Chad Luek
Guitar Thai
---