Prart Aroonrungsi | Create Your Badge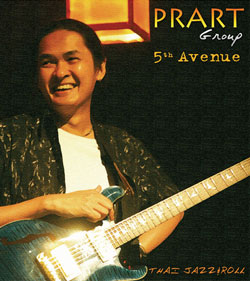 Prart Aroonrungsi was born in musicians family, his mother is a vocalist and his father is a musician who can play everykind of instrument. 9-year-old Prart originated his story of music when he played his first instrument, keyboards, which was taught by his father.
Prart started to play the guitar when he was 13 years old. Rock, Blues and Jazz music influenced Prart, artists like Ritchie Blackmore, B.B. King, Larry Carlton, John McLaughlin, Pat Martino etc.
19 year-old Prart began to be a teacher and 2 years later he initiated to be a guitar player in fusion music band.
In 1992, Prart produced his first album, Prart Conception "Electric Guitarland" (Indy Party), all instrumental songs. At that time this musical style was not popular in Thailand, so it seemed to be brave to do this album. Nevertheless, this album got the attention of BMG (Thailand) and Prart was given a contract.
In 1994, Prart produced his second album, Prart Conception "Six String Story" under license of EMI (Thailand). Both of these 2 first albums style was "contemporary music", mixedwith Rock, Jazz, Blues and Progressive. On all albums, the prominent point was Prart rearranging Thai ancient songs to a modern music style.
In the same year, Prart decided to study major in guitar at the G.I.T. Institute in Los Angeles, USA. By that time Prart used to study with famous guitarists such as Joe Diorio, Scott Henderson, Frank Gambale, Ron Eshctee and other renowned guitar teachers. Prart also played guitar and got into the music scene in Los Angeles for 2 years.
In 1997, Prart came back to Thailand and initiated many jobs in music. He did not only produce his next 2 albums, Prart Conception III (1998) and Prart IV (1999), but also produced the Prart Music-Workshop on the ITV channel. This programhad a warm welcome.
In 1999, Prart founded Prart Music Group Co., Ltd. It operatesin the music business i.e. International Concert, Music-Work shop, Guitar Magazine, Music School, Video Instruction etc.
Prart always is both an artist and a teacher. Accordingly, he founded Prart Music School that has many national guitarist disciples. Moreover, he pioneered to create a guitar magazine called "Overdrive", a Computer Music Magazine called "ComMusic" and Bass, Drums and Keyboards Magazinecalled "Rhythm Section".
Prart commerced to do a Guitar Concert-Workshop and On-Tour in Thailand that traveled around the country, called the "Overdrive On-Tour". Hence Prart is one of the musicians who has many jobs in the Thai music scene.
Recently, in 2005, Prart formed a band called the Prart Group and he produced his fifth album called "5th Avenue". The album style he describes as "Thai Jazz & Roll", it mixes Jazz and Rock. Prart invited Peter Erskine, a world-class well known jazz drummer, to be a special guest. Prart is satisfied with all of albums, but especially with "5th Avenue"because it shows him as self-assured.
Prart has passed through domestic and foreign music experiences for 15 years. And he still has works his music jobs, included everything in music that he has created.
Prart is an entertaining-outgoing person with his improvisingand rhythmic music style, with his unique guitar sound, and he is ready to come across with everybody.
Somyot Chadrungreang : Writer
Admiring Words From World-class musicians
"Sound Good, I liked that"
Eric Johnson
"Sound Good, Keep Going"
Joe Diorio
"I really dig it. You've got really tasty songs and a lyrical guitar style all your own. Best of all it was very inspiring --"
Jude Gold
Guitar Player
Associate Editor
Prart Group "5th Avenue" Band
Prart Aroonrangsi
Electric Guitar, Acoustic Guitar, Guitar Synth.
Peter Erskine
Drums on Peter 5/4
Kob Somporn Jitprasopnet
Electric Bass, Acoustic Bass, Fretless Bass
Ood Yannawa
Acoustic Drums
Nung Chakawan Saotongyuttitum
All Eletric Piano, Synthesizer
Sunny Rattana Wongsunsern
Electric Piano on Jazz & Roll V.I
Peaw Shotirot Viboonlap
Voice on Old Fashion Love Song
All Songs Written and Produced by : Prart
Prart Group - 5th Avenue [Jazz 'N' Roll]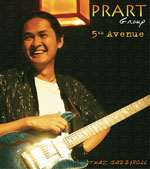 Wherever one's taste falls in the many streams of jazz, one should always acknowledge players who, while not having that mainstream edge, have that "it," an ability to communicate in the jazz mainstream. Prart Aroonrungsi is one of those players.
Prart is smooth as silk and really knows how to tell a story, to talk with his guitar. His warm, velvety tone combines with a phrasing and delivery that invite you to sit down and stay a while, relax, kick off your shoes, and just forget your troubles.
There are ten originals and some of which are surprising. There is nothing not to like in the Prart originals. He does a bebop jazz n' roll on Peter 5/4 which sounds as though it is a lost Kenny Burrell track from the Midnight Blue period, making it sound almost too easy, and the only vocal track Old Fashioned Love Song takes its time to spin out.
Drummer Ood Yannawa knows how to swing behind, ahead or on the beat in the most natural way, with grace, with bassist Kob Somporn not far behind. Pianist Nung Chakawan uses his chord choices and placement to provide a very natural framework for Prart, who can almost take his presence for granted.
This album has those compelling moments when the instrumentalists are so eloquent with sound that you'd swear you're hearing the words, a special and rare kind of alchemy.
---
Prart Group Related News
http://metalhaven.livejournal.com/11658.html
http://www.nationmultimedia.com/life/20070626/index.php?news=life_30037769.html&col=Personality
http://www.music.mahidol.ac.th/journal/november2002/interview.html
http://www.komchadluek.net/news/2006/01-15/ent-19652114.html
http://www.proplugin.com/article.php?id=289&lang=th
http://www.guitarthai.com/interview/prart/prart.asp
---