---

---
Overtone Music Cave
Real Music for Real People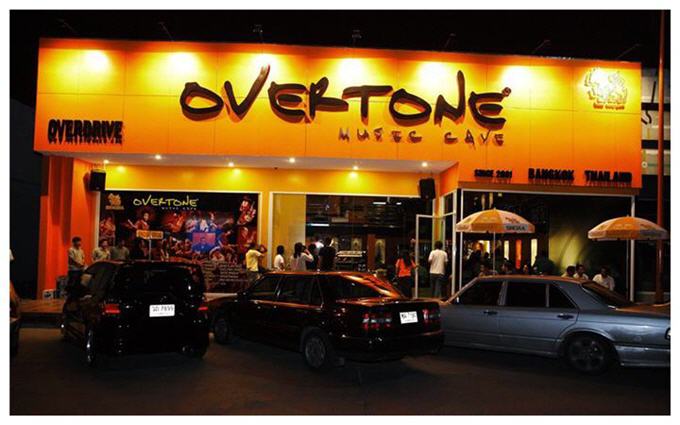 What is Overtone?
Overtone is a unique music venue where you will find a familiar music-society; a much longed for vibe that disappeared from Thailand ages ago. Overtone is established for all music styles. Whether it's Jazz, Rock, Blues, Reggae, Folk Fusion, Hip-Hop, Electronic or World Music, it's all here at "the home of music". Overtone is the music cave where every music lover can find fresh music as well as real music people. Our venue seats between 150 and 200 people pending on performance.
Overtone History
Overtone had its first opening in September 2001 adjacent to Prart Music School. The club had a limited 40 m² floor space and shows were performed on Fridays and Saturdays only. However, a great number of professional musicians turned out to play music in a wide variety of styles ; Rock, Jazz, Reggae, Blues, Acoustic, Finger-style, Funk, Fusion as well as all original projects. Overtone kept this activity going for nearly 2 years but because of its rather inconvenient location, it was closed and a search for a new venue began. In early 2007 we finally settled for a prime spot located at RCA (between Route 66 and Old Leng). We made sure Overtone would be a venue with nothing short of a superb sound and light system since our aim is to please the needs. A spanking top of the line JBL Line Array Systems is now properly in place to spread fine tuned notes over the two hundred square meter floor space.
Overtone Workshop & Meeting
Music Workshops are arranged on Saturday and Sunday afternoons when thoughts and opinions are exchanged among both local artists and visiting musicians.
There will be the likes of "The Know How Instrument Group", a group where musicians who have great knowledge in their various instruments explain how to modify and use our instruments effectively?
There will also be "The Guitar Collecting Group", a group session where people (musicians and collectors) trade, check and discuss guitars from every corner of our globe. Often when these people meet, money is not an option.
What's Displayed at Overtone...?
Numerous guitars as well as other music instruments and items are on display, relieving a bit Thai music history. There are even rarities like the original score of the well known songs "Gor-kaye-sun-ya"(Promised) and "Hen-jai-kan-nohi" (Sympathize me please) displayed. This is to show respect and recognize all Thai Musicians who have contributed to the rich inheritance in our long history of music. It may not be Hollywood but, a "Stars Walk of Fame" is even being laid out in front of the venue; a much anticipated piece of "lime light attraction". Keep your eyes open...
Overtone isn't Only a Pub.
If you think Overtone is "just another pub", you're sadly mistaken. Overtone is a music venue where players and listeners gather, talk and experience new friendship. You might just encounter friendship that will last a lifetime. Most likely, Overtone will become an establishment that not only holds it own but, will also be compared to places like the worldwide known Blue Note, Baked Potato, Catalina and La Ve Lee.
Who Performs at Overtone?
Overtone doesn't have a house band that plays everyday. It will keep a versatile schedule of performers in order to maintain both quality and "contemporary freshness". The venue is open five days a week from Wednesday to Sunday and closed on Mondays and Tuesdays. Stay in tune and keep your eyes on our constantly updated schedule.
Other Noteworthy Information about Overtone...
On Mondays and Tuesdays Overtone is closed. However, you may rent it to arrange shows, mini concerts or private parties. The pleasant spacious environment with its impeccable sound and light system is the ingredient for a successful event (considering your concept is right).

On Saturday and Sunday afternoons, bands band that want to showcase can do so and collect their own fees (between 1 pm and 5 pm ).

People under the age of 20 are not allowed to enter after 9 p.m. Overtone will arrange The Saturday 6 O'clock Show in the Artist Program.
Overtone can be booked for 24 track live recordings (24 bit/ 96 Khz record studio) for those who want to record a live performance.
Free Wireless Internet
You can get a free wireless internet in Overtone. Bring you own laptop and get a free connection here.
Overtone and Cover Charge
There is no cover charge except on special occasions. And when those arise, will keep you posted. See ya'll there!!!
Get your Overtone information and schedule in:
OVERTONE HI5
http://overtone.hi5.com

OVERTONE Myspace
http://myspace.com/overtonemusiccave

Overdrive Guitar Magazine's monthly issues.

www.prartmusic.com or (http://www.prartmusic.com/overtone.php)

Apply for membership at www.prartmusic.com so you can receive our weekly updated information.

Apply for text message information on your cell-phone. In order to do so, leave your telephone number at Overtone and ask for the Overtone Program at
(02) 203- 0423-5 10.00- 20.00
(02)641- 4283 18.00- 02.00
---
Overtone Related News
http://sound.jp/lemonsong/thai.htm
http://www.nationmultimedia.com/2007/09/07/entertainment/entertainment_30048125.php
http://www.bangkokgigguide.com/gows/gig_of_the_week.htm
http://www.bangkokgigguide.com/gows/Overtone%20Music%20Cave.htm
http://www.bangkokjungle.com/news/olarn-signs-signature-strat-for-doctor-blues/
http://www.bangkokjungle.com/news/overtone-jazz-venue-opens-on-rca/
http://www.surfbangkok.com/main_jp/detail.asp?id=39
http://www.giggog.com/entertain/cat1/news4543/
http://www.surfbangkok.com/main/detail.asp?id=33
---